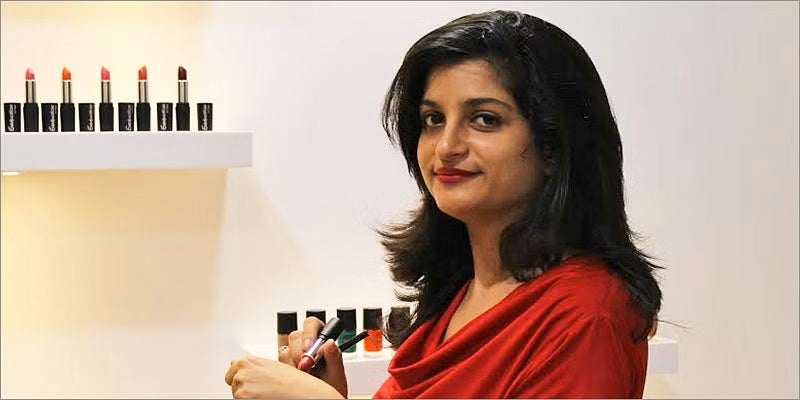 BEAUTY IS A FORM OF SEDUCTION – PAMPER YOURSELF WITH PRODUCTS FROM SEDUCTION LAS VEGAS
Three factors – supportive parents, an itch to startup, and an interest in cosmetology – combined into one proved to be just the right impetus for young entrepreneur Monisha Gidwani to start 'Seduction Las Vegas.'

After completing her MBA from London, Monisha started applying for jobs and got into a reputed Pharma company. A lucrative package, a great work role – in short everything a fresh graduate looks for, was offered to her. "There was something missing and I felt I was just not meant to be there. It happened one fine day and I took a call to quit and move back to my hometown Mumbai to start something on my own," says Monisha.
She vividly recollects the night when she called up her father to tell him that she wants to give up on everything in London to pursue her entrepreneurial journey. Much to her delight, her father agreed to her decision.
"Since my days in pharmacy, drugs never caught my interest and cosmetology was my favourite subject. Someday, I thought I would start my own cosmetic line. The desire was to make beauty products affordable to all without compromising on the quality," says Monisha.
 Customer is the king
"No one but the customer affects you and your organisation, so I believe in sticking to a simple policy – always deliver more than expected," says Monisha. Talking of her entrepreneurial journey, Monisha says that business has no place for emotions, it is not meant for the faint-hearted or emotional people.
Talking of her key learning, Monisha says one needs to keep emotions closed in a bottle. "Do not get demotivated when someone says that you cannot do it. These are the very people you need to question to understand why they think so and trust me, these are the best critics you will ever get around you," says Monisha.
Another take away from her journey so far – do not hire employees. Hire people who treat the company like family and take care of the business like their own. These are people who can make or break the entire organisation and one key element is listening more than talking.
Starting up
 Monisha gives all the credit to her parents, who poured down their entire savings to get the business running.
Her brand started with one product – a nail polish free from DBP, formaldehyde, toluene – products which are considered harmful and are banned abroad. Monisha says she was blessed to have the best manufacturer ready to make a very small quantity initially.
Her initial days were full of struggle. "We used to go to various parlours and retail outlets to show them samples of our product. And our first customers were parlours, they understood the quality of our product and appreciated them," says Monisha. In the Indian market, the retail segment is on credit and so Monisha says she had to take risks. They started with one area at a time, found few good retailers and expanded to 300 beauty parlours in Mumbai.


"The idea behind launching nail polish was to make people believe in the brand first. Then we launched lipsticks with only six trendy shades and those got sold out like hotcakes. Then we decided to come out with waterproof kajal and that did pretty well. We knew people loved our lipsticks and then we launched an additional 12 shades, which also are selling pretty well around Mumbai," says entrepreneur Monisha.Technology involved
Right from the beginning, Monisha says she knew she had an excellent product and knew if customers get to try them, they would surely appreciate the same. "We got in touch with bloggers, fashionistas and sent them our samples and it was a huge satisfaction when we saw them loving our products. We arranged giveaways on our social media platforms to increase engagement and more and more customers to try our products. So we kind of created the word of mouth publicity," says Monisha. Her expansion plans are to enter Gujarat market by the end of this year and also double their sales force in Mumbai. Seduction Las Vegas' range of products will also increase from three to six by the end of 2016.
A few questions for Monisha
"You are very young, who is the boss?" This question was something Monisha dealt with very regularly and though it bothered her initially, she converted it into her strength. "I made this my strength as I exactly knew what my peers wanted," says Monisha who laments how women entrepreneurs in this country are not taken seriously and instead think that women are fit only to cook, run a household, and raise kids. Monisha thinks women can definitely do everything in this list and also run a business successfully.
Another question which dogged Monisha was what will happen to the business after she gets married. "Indian society still feels marriage is the end of a woman's career and I am glad my parents think otherwise and have supported me right through my starting up days," says Monisha.
Monisha models herself on Mary Kay, the Founder of Mary Kay cosmetics and is guided by her principle in life – "You can have anything in this world you want, provided you want it badly enough and are willing to pay the price."
Inspiration and motivation in parents
Her father is Monisha's biggest inspiration, someone who has worked very hard for the entire family. "He never gave me money just like that, he always asked for a proper business proposal to keep a check on my dedication level," says Monisha.
In her mother, Monisha finds ample motivation. "At the end of a bad day, she always says something good is coming your way and asks me not to worry," she says.
And the name of her venture, "Beauty is used in a form of seduction always, and who doesn't want to look beautiful," signs off Monisha.

Read more at: https://yourstory.com/2015/10/seduction-las-vegas